Your reputation on the web is driven by reviews
I must admit I never paid much attention to reputation management. When Blue Light Labs started stepping into the internet marketing space. I knew online reputation and client nurturing were important facets of being. web design agency but never to the extent it has proven itself to be invaluable. 
The Reputation of your work. Active communication you have with clients and the message. Your brand emulates will become a signal that will attract not only new customers but eventually the right kind of customers.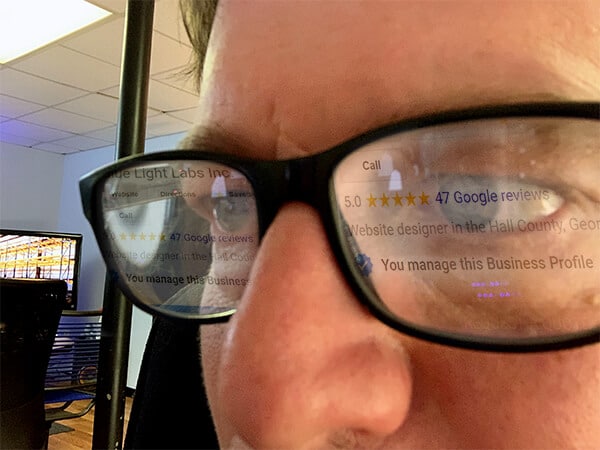 Reputation is now one of the most important ranking and authority signals on the web. Search engine algorithms are most importantly using. It as a strong metric on how to gauge companies and organizations along with their services or products. 
Apparently 85% of potential consumers look up a company for reviews.  Feedback before deciding to move forward with a decision or purchase. This is a huge deal! Think about it. All I know is when I purchase anything on Amazon. Or enroll in an online course among looking for other services. I almost always do at least a little due diligence. To make sure I am not throwing my money away.
Little advice that you should start taking seriously right after you finish reading this.
In my opinion when you finish a project, sell a product, complete a job or deliver a commodity the first thing you should jump on top of is getting a good review. Reviews show that you are actively involved with real people and encourage communication while giving others a sense of transparency. 
This can work for you or against you but one thing is for sure. If you don't take charge of your companies reviews and online reputation you will get left behind on the internet.  
The value in taking your online reviews and customer interactions seriously
Influences Buying and Decision Making
Improves visibility on your website, social profile and digital footprint
Becomes a great reference when pitching or explaining your services and products
Is becoming a major authority signal for Google and other search engines
Potential buyers and prospects get a perspective on the quality and style of your offerings
Opens up another channel to communicate with your clients and customers
5 websites that seriously improve on your online reputation footprint
Google Maps / My Business Reviews
This is a resource that cannot be overlooked. It's potential and growing popularity are making it a go-to for B2C and B2B customers to find what they are looking for locally. I believe that every business should spend time babying this account. If setup correctly when someone googles your company or brand you should show up in the Pack where your company information and relevant reviews will be visible right from the search results. This makes GMB my top pic for reviews especially for service-based industries. If you have not done so already login to google.com/business and get the link to your review form from the listing info area. 
Carefully craft an email that you can use use to send satisfied clients and customers requesting a review. This link is great because it takes them straight to the form where they can select their star rating then type in their review. It will take a few days at times but as the administrator you will receive an email from Google My Business letting you know you got a new review. I suggest you respond to each review positive and negative. You can respond to reviews from the review section of each property location. Keeping these listings fresh current and updated can make a great impression on visitors looking for insight into what your company is all about.
Facebook Fan Page Reviews and Recommendations
I consider our Fan page to be a little more lighthearted and less of our serious side, however Facebook users / friends and following customers can leave reviews there as well. For other companies I am sure it might be more important. The main difference is that visitors to your fan page can follow and recommend your company to their friends in the process. 
You can however send people to your facebook review page by just adding /reviews to the end of your facebook Fan Page url like facebook.com/bluelightlabs/reviews for example. If we were going to ask for a review on facebook, first I think I personally would try to get them to follow the page. Your facebook Fan Page can be a powerful tool that can help you express your companies unique culture and activity in the process. We suggest keeping your Fan Page up to date, posting and opening it up is yet another means for communication to the world. 
Linked IN Recommendations Endorsements Profiles and Mutual Connections
Linkedin is Microsoft's more subtle network. With less buzz but it should never be over looked. LinkedIn stresses the professionalism of individuals more than individual companies. Even though you can create a company page similar to facebook. The real importance of Linkedin is showing off your personal skills. Accomplishments and endorsements. In the web design and development space. I see a large amount of traffic stopping by to check out my profile all the time. People want to know. Who they are going to be working with as well as who I have worked with. It's always a good idea to spend some time on your profile.  Start building your connections. When I start a project with a new client. I will first search to see if they are on Linkedin and if they are. I will request a connection. 
If they are active on the platform. They will accept my request almost 100% of the time. When we finish a job or project. Have a working relationship with the contact. I always request a recommendation or endorsement. You can do this on their profile page next to the message button. There is a more button that will have the option to request a recommendation. When they are on your profile, they can also endorse you for specific stills that you have listed in your profile. Over time your profile will grow and become a stronger representation of your accomplishments and skills. 
Yelp! the alternate review authority
I personally am not a huge fan of Yelp for a number of reasons, but it is a necessary evil in some circles, especially if you are in the food and beverage industries. Allot of Yelpers are foodies, wannabe critics or people out for blood in many cases. Yelp reviews for some reason are listed rather high on google search so they can be considered a ranking authority though. The reason I really cringe when it comes to yelp is because most of my customers are not Yelpers,"Yelpers" are people that have active Yelp accounts and review companies and establishments regularly.
 Most if not all reviews made by non-Yelpers end up on a dwarf page that does not appear to get any attention or get indexed for that matter. I do suggest getting a few reviews in there however. One Idea is to give your clients and customers an option where they can choose one or the other. Yelp have been calling us almost 2 times a week trying to get us more involved in their paid advertising to the point where it is starting to get annoying. It is an important network to get a listing with reviews on it but we have decided to focus more on our GMB because the review results are shown right there on the search level.
Managing your reviews and reputation
Managing your business profiles and reviews you get is not that big of a deal. Remember, Reputation is not something you build overnight. But most good things take a little time, right? There are quite a few tools for managing your reviews and reputation like Mention.com, that will let you monitor your brand across all networks or Brand24.com that provide tools for managing and responding to your reviews.

If done correctly you can setup a email automation recipe that will take your customers though the process of giving you a good review. For example, at Blue Light Labs we have an Active Campaign automation that will start when we have completed a project and added the client to our billing system. It will tag the client as #get-review first, wait 3 days then send the first review request email. 
This will be a personable short email asking our client how satisfied they are with our work and ask politely for a review with different network options. After a few days have passed and they have not opened the email or clicked on a review link Active campaign will send another follow up email coupled up with some content about their account. Following up is KEY here. I would say we need to follow up on almost 80% of them. Remember people get busy, life happens and writing a review gets shoved into the optional to-do List. 
Long Story Short, Get started acquiring reviews because of your online reputation. Is going to become more and more important as the internet evolves. The sooner you start, the sooner you can have a brand. 
 Company reputation you can be proud of.  When you get a bad or negative review, relax and respond to it with good intention. I know there are some customers that are almost impossible to satisfy but I would recommend always trying to engage the situation and attempt to pacify whatever misunderstandings there are. Most of the time you can get them to edit it and write a good one. 
Schedule a little time out of each month.  To do some house cleaning on your company profile and social accounts. In time you will realize how fruitful having a great online reputation can be.
Blue Light Labs can help your company with brand and reputation management profiles and accounts. After a quick consultation. Our team can arm you with the tools and processes. It needs to establish brand awareness and great reputation on the web. Create a customer review strategy. That delivers for years to come. 
Please feel free to call us direct at (770) 309 6480 or click the link below to schedule a FREE assessment.