Give Facebook Ads a shot before you put it on the shelf
I'm no Facebook advertising professional, but I've had my nose in it for the past month.  I am trying to see if it can bear fruit of any sort. Here are some points off the bat that will give you a heads up if you plan on experimenting. Give it a shot and see if Facebook is worthy of your advertising arsenal.
1. Is your business a good model for Facebook ads?
Look at it like this; first off, people don't go to Facebook to shop or click on ads. We all know that because most of us use it. I am generation X, so I visit the site at least 7 times a day and I don't consider myself to be a huge Facebook user. The traffic is there, the demographics are there.
The incentive to respond to advertising put in front of you is almost an unconscious smoke screen
. So, if you are selling a product or service, it needs to be something they have been looking for, or
really
want. The product or service must have some type of pitch to it. For example, introducing a problem then offering a solution. I suppose it works well for large companies to get exposure.
Highly
branded companies like Amazon and Coca-Cola for example. These giants
just
want to keep the psychology or repetition going steady for their brand.
Keep in mind that Facebook is almost dead among Generation Z (18-25). Most of them have moved on to their Snap Chats and Tumbler Accounts. I was after corporate / high end entrepreneurs. At face value, all looked promising.
I thought that with FaceBook's targeting functionality I could put my web design and
marketing agency
ads to the test
. I set them to run in front of targeted local businesses within a 30-40-mile radius of our location. That was our first goal. When designing my first campaign I was trying to keep myself in mind when putting it together. What would stand out to me? What would give me incentive? Then I took a look at ads that are already running.
Companies that have been posting in the past few months for service specific products
.
A good tool to look at is "What Runs Where" https://www.whatrunswhere.com. This allows users to search, view and compare all sorts of different ads. It is not 100% free. I would have thought that the local exposure would have been enough but it turned out to be trickier than that.
If you are going to advertise a service-based business, I would suggest implementing an incentive
. Understand how much you are willing to pay for a lead or new client / customer. You don't know how well it is going to work for you until you give it a chance. Then at least you can say you gave it a shot.
2. Facebook Image, Videos, Posts, Headlines and Descriptions: Anatomy
I am going to go over the anatomy of a standard Facebook ad.
Your standard ads are the ones that show up on the lower right in the news feed itself and are 1200px X 628px when uploaded
.
At this point I have not experimented with video yet but we are
in the process of
putting something together
. On my first attempt I had a graphic with text next to it. The graphic showed off some of our work and the text in the graphic was a short list of my propositions / offerings. Facebook does not like text within the ad image. Even though my ad
was accepted
. It did not broadcast well until I shrunk the text in the image to half its size. You can then add a headline that shows up
just
under your fan page title and a description.
When creating an ad for clicks to your website, by default, Facebook adds the meta description of that page right under the first description
. You can also overwrite that default content and add in your own information. Facebook Ads are not like Google AdWords. You cannot get a hold of any type of support; chat or otherwise.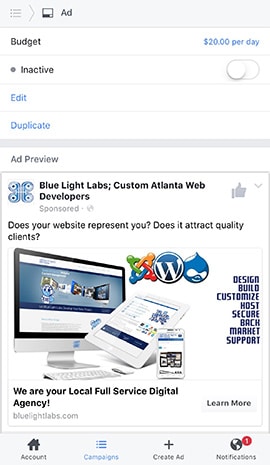 As well as ads you post through the network, you can also boost posts that you have already made on your 
fan page
. 
In a way, this is Facebook telling you that you must pay $ to broadcast to all your users that have liked / followed your fan page
. This also goes for friends and family and their friends in your network. 
You would think that if you worked this hard to get likes to your Fan Page then you could post to everyone that has opted in
. Unfortunately, that is no longer the case. 
In many respects, you would get more customer exposure if you had a business Facebook account rather than a Fan Page
. This way at least it will 
be seen by
 everyone that is a friend of the business.
On any ad you can select a series of call to action buttons that show up in the lower right hand corner of the ad. Including: Contact Us, Learn More, Download Now, and Shop Now among a few others. Remember to play around with different versions of your ad. It is easy to duplicate an ad group and make slight adjustments to test different scenarios.
Ad – Standard limited 1.9:1 ratio
Carousel – Multiple 1.9:1 Can display 3+ Slides
Video / Slideshow – YouTube, Vimeo, Direct Upload – Auto Play
Use Existing Post – Any post on your fan page boosted to followers, friends and distant friends
Call to action – Contact Us, Learn More, Download Now, Shop Now
3. Dive Deep into targeting and test like a freak!
The primary power of Facebook Ads is without a doubt, the targeting. This is the feature you want to
really
take advantage of!
Strangely
enough, 75% of the online populous that use Facebook
regularly
are women, when for men it's about 66%.
Social media
has become
slightly
more dominated by women.
There are many dimensions that you can include and exclude from your campaign. I kept mine simple (Men between the ages of 42 – 65+ within a 35-mile radius. We added location and people interested in Business, Small Business Entrepreneurship, Startup Company. Interests: Advertising, Construction, Engineering, Health Care, Management etc.)
You can
really
drill down your target audience by selecting interests and behaviors. Connections are kind of neat because they allow you to look out for potential prospects. Prospects that have visited or engaged with your Fan Page or website in the past. Using Connections, you can re-target these prospects and take advantage of double exposure.
There are 4 available networks to choose from. In my experience so far, they are not created equal.
Unless you have a specific product or service, I would not recommend using the Facebook Audience Network
. We where getting a ton of traffic from it, but the results were minimal. By default, like Google AdWords, Facebook will add your ad to all 3 networks.
When I ran my first campaign, I was getting allot of cheap traffic but 75% was coming from the Facebook Audience network
.
This network seems to
be composed
of Mobile App Ads, as well as off-network news-feeds and partnerships
. When we turned that off we were getting more traffic
directly
from news-feeds and posts.
In my opinion
, it did not yield the fruit that the engagement was showing. The Instagram network might work well for specific business types.
We did not see the point in pushing a
website design agency
 on a photography focused environment
.
The trick is to try a little bit of everything. With about a $100 budget I could get a feel for what was starting to work, and what was a waste of time and money. With Facebook, you are being charged
primarily
by impression. The cost of those impressions varies based on
a number of
factors. They give you an ad score that is from 1-10. Starting out, my score was a 3, then it took a few days before I
was awarded
a 4 or a 5. My best guess is that it pertains to ad relevance and audience engagement. Every day, Facebook estimates how much per impression I am spending to get a click to my website. This seems to fluctuate
dramatically
from $0.28 to $1.70 per click. It appears that you will pay more for clicks for the ads on the news-feed. Incorporating the Facebook Audience Network into your campaign brings the cost down.
4. Take Advantage of the demographic tools available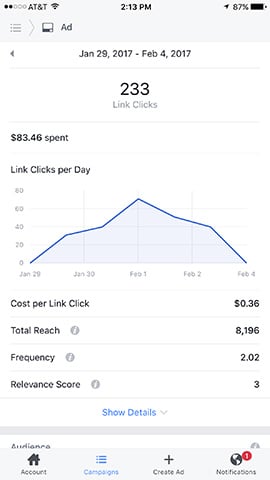 Rules can be helpful if you want things to change. For example, you can set a rule to increase or decrease your daily budget when certain conditions
are met
. You can apply rules to both ad sets and campaigns.
Facebook Pixel is a bit like the Google Analytics tracking code. You add it to the header of your site for Facebook to track specific activity that is being sent to you. There are a few Pixel options. These ranging from tracking eCommerce
purchase
activity, to successful lead submission form tracking.
Facebook claims that by using Pixel, they can use the collected data to optimize your audience over time
.
Reports can
be combined
with conditions to setup email reporting. This can be helpful if you want an overview at the end of the day or month.
You can customize and breakdown the dimensions you want, and setup your own custom reporting
.
Performance demographics placements though the ad manager also have intuitive dimensions. These can
be customized
and saved as a custom view.
The Mobile App for Facebook Ads is a nice little tool. You can get basic statistics and turn your campaigns on and off from it. It comes in handy when you are out and about and have to check in on your progress and budget.
Audience Groups can
be duplicated
so you can create different versions. Using these you can define separate demographics in the same campaign.
This gives the advertiser the power to tweak settings between ad instances to measure results
.
5. The Facebook Bummer List
You must pay $ to boost posts to friends or users that have followed your fan page… Seriously?
The use of text is limited in Ads, even if the text is part of the design
Facebook Ad support is nearly impossible to get a hold of; there is not even a live chat. When having issues with your account you must rely on forums or scour for documentation.
On the news feed network, they decide if your ad is to appear on the right or in the news feed.
Results seem to vary dramatically based on business, product and target audience.
6. The Facebook Bonus List
Inexpensive traffic / impressions
Good analytics and reporting
Very targeted campaigns
ROI overview