Adding + Optimizing Google Maps Listings
This is a must read for any business that wants to start getting local prospect traffic to their website fast
. We added Google Maps optimization to our
internet marketing
arsenal years ago. Today it's importance has become
blatantly
obvious.
Implementing your business with Google Maps, AKA 'Google My Business', has become a major component
.
These listings should be part of your optimization strategy and should not get overlooked
. In this article I am going to break down how to set it up and maintain your location listings. I will also offer insight into getting the best ranking for your local area.
Some of these tips are bias and theoretical and others factual ranking factors. If you have not implemented this for your business yet, I have no doubt in my mind that you will thank me later after you have gone through the process. 
Why you need a Google Maps Listing
I don't want to sound like a broken record, but mobile search made up 58% of search in 2018 and 48% of time spent online last year was on mobile devices
. Have you have payed attention to the google search page anatomy over the past 2 years? The top 3-4 positions after the initial paid ads are Google Maps based listings. These provide local results based on the location of the device. This is a huge deal and should not get ignored. So for example, if prospects are in the respective proximity to Blue Light Labs. They then search for "
web designers
" or "web developers near me". Based on the health and activity of my Google My Business Listing I find I
typically
show up in the top 3. This seems to stay consistent when being within a 30 mile radius. This is a huge deal and should not get overlooked.
In the past, I have always preached the "Google Loves Google" perspective. This is where it is important to listen to the heartbeat of this search giant and follow along. Get on board with its improvements as they become clear.
Google Maps has been around since 2005, but only in the last 3 years has it become a primary piece of real estate on the search result pages
. As it affects the Local SEO of your site, one could say it most likely is a strong signal. Another perspective would be, it is there to confirm your business and its coverage area. All in all it will not hurt you to spend 45 minutes to an hour adding your locations. Citations, references and inbound links are one of the main fuels that push your site up the results. Google My Business listings are one of the now obvious important ones.
Anatomy of a Google My Business Listing
Open up a new tab in your browser right now. Do do a quick search for a standard phrase without a location identifier. Most likely you will see 3-4 sponsored ad listings. They start from the top under the initial paid add listings.
You should see the map listing module composed of a map, locator markers and then the top 3-4 local listings under that
. It is complete with it's own footer to view more before the organic results even start. That is some crazy sweet real estate if you ask me! I don't know when this format is going to change or how it is going to morph over time.
One could assume that local search is here to stay, especially now that mobile is the primary driver of internet traffic
.
These listings depending on information added have a title link, directions link, and website link
. They are available on both mobile and desktop browser based search. If the links get selected it goes to the listings overview. The overview complete with posts, images contact information and reviews. This area is where we want to shine!
When setting up your business in the listing editor it's a good idea to take a peak at what your local competitors are doing already
.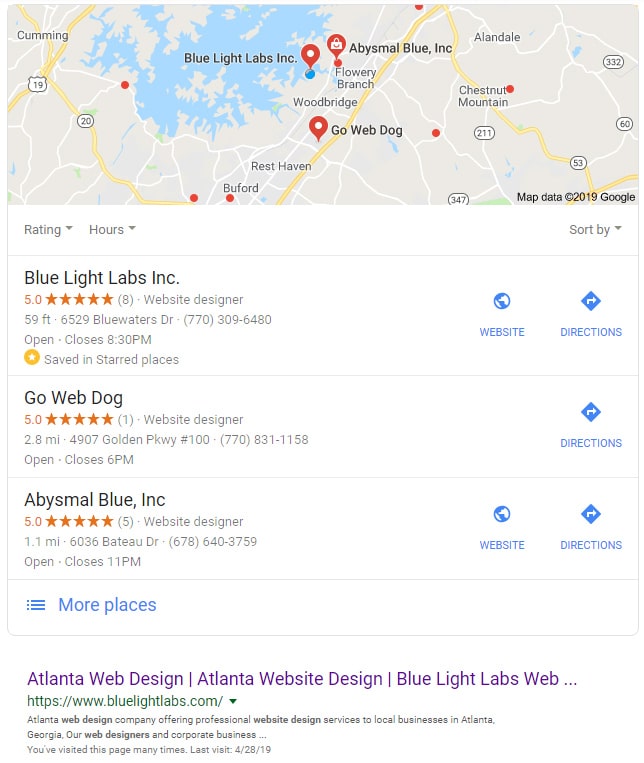 Adding your Google Business Location
Slide on over to
https://www.google.com/business/
and login.
If you don't have an account sign up with the Google account you want to use as your administrative account for your listings
.
Select Add Location and fill out your business title first. If possible, without sounding spammy I would try to add a primary key phrase to your location. A good example would be "Blue Light Labs Web Design" or lets say for a law for a law firm "Brown & Brown Family Lawyers". It
is believed
that adding a target phrase in your title can help but I am not 100% on that.
(This Is Important) Google will then ask you if you would like your business to be able to
be visited
like a store or office
. You want to choose YES in this scenario. Why?
If you work from home and want to get prospects via appointment only your location will not have much of  a fighting chance if you choose NO
. Here at Blue Light Labs we
primarily
work from home but do have prospects that visit from time to time. I leave it up to your disclosure. I have always pushed (By Appointment Only).
Depending on your business type, you might get an occasional prospect knocking on your door
.
Honestly
, it has never been a problem for us.
In other circumstances if you do have a location like an office, restaurant, or gym etc. Most you will be welcoming the foot traffic
.
Verify Your Listing Location With Google
Depending on your situation you need to verify your location. Google will send a postcard or call a phone number to try to verify the address. I think they don't offer the phone call verification anymore, but it might have changed again. The postcard with the verification code takes under a week to get to your location so keep an eye out for it so it. It can easily be mistaken for junk mail. Once you have the verification code proceed to the list manager. Select the verify listing option to the right of your pending listing. At that point you can start adding more content to your listing so it can start to stand out.
This interface has improved tremendously over the past few years. Google even built a little bit of social activity into it.  Now you can add posts, promotions, events and promotions and products to your listing. Before we get ahead of our self's let's go to the company info tab and make sure all the information is filled out correctly. 
> Category Tab
Try to find the best category for your primary search phrase. Google will try to help you with the best option and give you a few recommended ones as you are typing phrases in. You can add more than one,
however
I would not get out of hand with it. I do know you can show up for more than 1 service though. For example Blue Light Labs offer Web Design as well as Aerial Drone Photography. I know we show up for both, but if I where you I would keep the list short and sweet. Ours are set up like:
I have tested these categories locally and we have started to show up under these sub categories. These are relevant and not just for show. It appears like when you edit any of this content that it takes Google around 24 hours to approve the changes. So far I have not had an issue with approval.
> Info Tab
Most of this is straight forward. Go ahead and fill out title, description, hours of operation and add some photos.
Coverage areas at this
point in time
are informational only, they don't expand your local search radius unfortunately
. Listing photos and videos
are categorized
in a way that you can add more images later.
I would
however
at a
minimum
, upload your company logo + branding
in order to
get your listing to stand out a bit more from the standard ones
.
I suggest
you take your time with it so you know your way around the listing editor. You can always go back and tweak it later if you don't have time.
You should most definitely add your website and a link to an (Appointment URL) / Jump page. These are prospects that want to inquire further.
It is a simple 1 page website generator that will auto fill the service and location information into a stand alone jump page
. At first I did not know if it
was related
to the location listing requirements or not.
Apparently
it's Google's way of giving you an alternative way of having a website.
When I filled out the service info and went to that tab it generated a URL like the following
https://bluelightlabs.business.site/.
I don't believe
adding the services and description have any effect on your listing search results
. You can leave that alone unless you don't have a website to work with yet.
This is where you have to put in a little work,
however
, I find it to be worthwhile. We send almost all our completed and happy clients to our local page to review us. Good reviews are worth their weight in gold. These are especially important when prospects are scouting out your services. They are paying attention to reviews. Reviews are must be one of Googles ranking factors when it comes to ranking well in the local results. You want to get at least 3 good reviews under your belt for your listing to start to shine. Don't get discouraged though.
Put in the extra time, be patient and take advantage of every time you have a successful sale or service transaction
. Ask your customer
politely
to write you a good review, then link to your local page.
(NOTE) Your client, of course has to have a Google Account to login and write reviews. This has hardly been a problem. Google is pretty good at spotting fake and unnatural reviews. I don't recommend forging them.
Reviews are also great for reference, when potential prospects ask for them you will have somewhere to send them
. I never liked Yelp! much for reviews. Most "Yelpers" are out for blood trying to have an opinion more than being helpful. My opinion.
Adding posts and company updates
This feature has become more prominent over the last 12 months. Your local page now has it's own internal blog module built into it. You can post promotions, company news and other information related to it. I started posting to it about 4 months ago when I got an email from Google entitled "You have not posted to your local business page in a while?".
(TIP)
I went back to my original mantra "Google Loves Google", and started posting updates and promotions to my locations
.
I am not saying this for a fact,
however
I did notice that our business listings started getting more traffic
. We also started moving up the list when I took the time every month or so to add
additional
content to the post area.
You can get the mobile app version of Google My business for iOS and Android as well. It's great for adding posts, making modifications and checking reviews and statistics.
I hope this article was useful. At Blue Light Labs we have a new SEO Rabbit service devoted to optimizing WordPress and Joomla! and WordPress websites feel free to let us know if you would like help optimizing your business on the web.